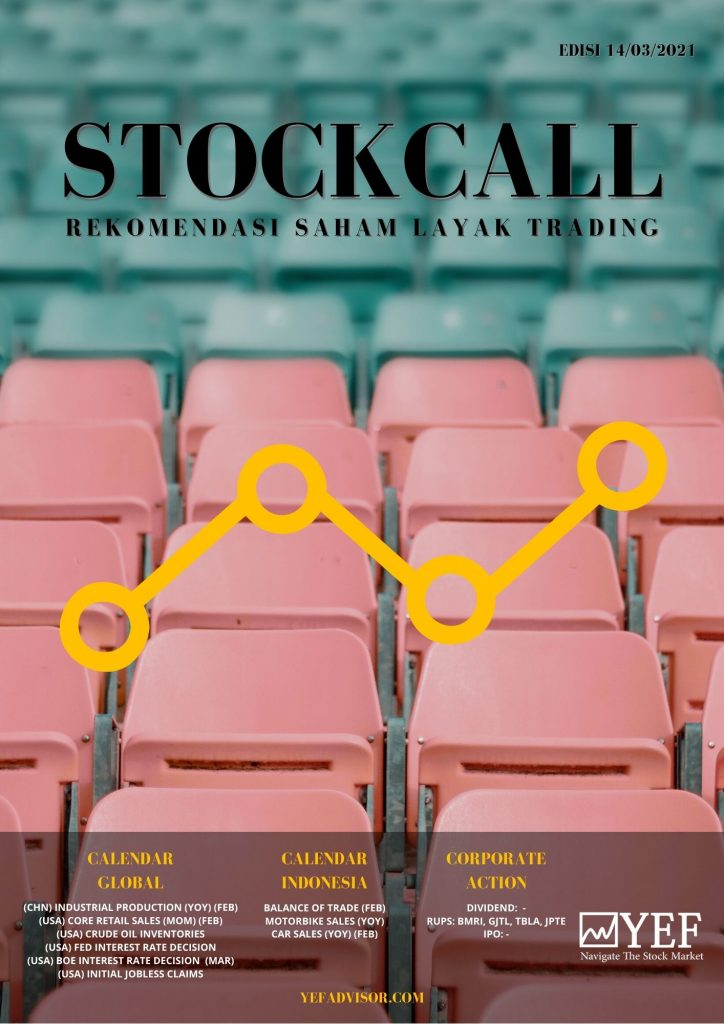 Perdagangan pekan kemarin, IHSG bergerak cukup bervariatif di rentang konsolidasi 6389-6150 sesuai dengan prediksi stockcall edisi 7 Maret 2021. Di akhir pekan, IHSG open gap up dan ditutup menguat sebesar +1,49% di level 6358.
Bagaimana prediksi pergerakan IHSG pekan ini?
Minggu ini IHSG berpotensi menguji resist 6400 jika berhasil IHSG terkonfirmasi keluar dari konsolidasi. Resist berikutnya dalam skenario naik kali berada di 6500 yang dibentuk pada bulan Januari 2021 yang lalu.
Pergerakan IHSG pekan ini tentu masih berpotensi dipengaruhi oleh sentimen yang datang dari agenda-agenda baik global maupun nasional.
Agenda global yang akan berlangsung diantaranya
Industrial Production (YoY) (Feb) dari China, Core Retail sales (MoM) (Feb), Crude Oil Inventories, Fed Interest Rate Decision, BoE Interest Rate Decision (Mar), Initial Jobless Claims dari Amesika Serikat
Sedangkan agenda nasional terdapat Balance of Trade (FEB), Motorbike sales (YoY), Car Sales YoY (FEB)
Investor dan trader sebaiknya mengambil sikap hati-hati mengingat The Fed akan memutuskan suku bunga minggu ini. Perkonomian belum sepenuhnya pulih, harapan pasar terkait suku bunga yang di tetapkan akan sama atau lebih rendah supaya perekonomian semakin bergairah sehingga menjadi katalis positif bagi IHSG.
Apa saham yang menarik untuk trading minggu depan?
Kami telah sajikan eksklusif untuk member Private Trading Room
Jika anda belum jadi member Private Trading Room, silahkan melakukan registrasi melalui link dibawah ini untuk mendapatkan akses rekomendasi Stockcall mingguan
Market Intelligent: Dianita A
Editor: Yusuf Efendi